Pick a Brick: $500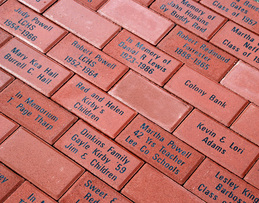 Purchase a foundational brick with your name or a loved one permanently engraved on it. Bricks will be proudly placed at front of the theatre as well as different locations on the theatre campus. Donations are one-time and tax-deductible.
WHY SUPPORT MT. LASSEN THEATRE
You're helping renovate and expand a vintage landmark: the old Chester Theatre!
As members of the Mt. Lassen Theatre Steering Committee, we have been meeting with different small town multi-venue community theatre managers throughout Northern California as well as discussing design options with developers. NST Engineering is presently surveying the theatre for renovation requirements and possibilities. Once they complete their work, we will work with an architect on design, including the possibilities of a new stage that opens to the Chester park for summer movies in the park, theatre-in-the-round, etc. Brett Womack and Womack Construction will be spearheading the renovation. We have also hired one of the premier theatre developers, Fernando Duarte, who has designed a new facade for Mt. Lassen Theatre that you can see below. Below are also four critical ways we need your help if we are to complete this community theatre, keep ticket prices low, and offer its collaborating mission to entertain, educate, and engage!
You're helping our community by supporting the restoration of this theatre
Please help us help our community by restoring this historic theatre. We are presently raising $40K via a 30-day holiday GoFundMe to enhance entrance accessibility for safety and ease, particularly for the elderly and disabled. Below our Executive Director, Gwen Meinhardt, explains the specifics of the expansion in her holiday letter. Your $10, $20 and even $50 gift can really make all the difference! Please go to our 30-day holiday GoFundMe to join us in restoring this vintage landmark, and bring the visual and performing arts back to our area!
Mt. Lassen Theatre is an IRS approved 501(c)(3) non-profit organization and, as such, all donations made to it are tax deductible.
You can help us keep ticket prices at Mt. Lassen Theatre as low as possible
Because MLT is an IRS approved 501(C)3 non-profit community theatre, we want to keep ticket prices as low as possible, so we will will not be taking out any loans for its renovation or operation. The building is already completely paid for! We will be applying for theatre grants but they could take months and even years to receive, let alone be eligible for. That is why we are counting on business and community contributions to complete the theatre renovation and launch its threefold expanded venue for movies, dramas, and concerts. Below are four ways you can donate and even receive your name or the name of your loved one ("In memory of ….") engraved on a foundation brick or theatre seat. All donations are tax deductible. Donations can be mailed to us, made via PayPal below, or called in via the theatre (530-258-3009). If you have any questions, please don't hesitate to write us. Sincerely, the Mt. Lassen Theatre Steering Committee
* "Pick a Seat" details: (1) limited to 165 seats, (2) a five-month payment option is available, (3) does not include actual seating placement for performances, (4) once the theatre seating arrangement design is completed, actual seat location preference will be granted on a "first come, first served" basis in order of date donations were received, (5) actual seats not pictured in photo.

** Become a "Friend of Mt. Lassen Theatre" details: (1) a 12-month payment option is welcome, (2) by partnering with us as a sponsor, as long as available, "Friends of Mt. Lassen Theatre" will receive an engraved foundation brick and engraved theatre seat upon completion of their first year donation, (3) in addition, if you are a business or other organization, advertisement in official MLT publications and discounts for performances will be provided as well.